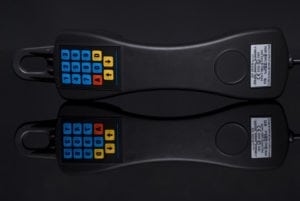 Application
Intrinsically safe assembling telephone sets can operate in difficult industrial conditions at extensive humidity and high degree of dustiness. They have been designed particularly for the mine communication services supervising the tele-technical intrinsically safe networks. They may be connected to any intrinsically safe subscriber's telephone lines, including among others Devices of Intrinsically Safe Telephony UTI, local communication systems ITS, STG and LSTI-A, and Integrated System of Telephone and Dispatchers Emergency and Loudspeaking Communication STAR. The ITM telephone set enables checking the lines and equipment of intrinsically safe separation trough connecting with the telephone exchange, after entering any subscriber's line, as well as for receiving a calling signal by the use of optical and acoustic signaling device.
Cooperation
With any telephone exchange by the intermediary of intrinsically safe separation units LPI, ZSD, ZSB or ZSI with the subscriber's lines of SAT or STAR systems.
Power supply
Central from intrinsically safe separation units LPI, ZSD, ZSB or ZSI.
ITM technical data
| | |
| --- | --- |
| Power supply | from subscriber's lines |
| Nominal signal level | 0 dBm |
| Direct current resistance | ca. 800Ω |
| Input impedance | ca. 600Ω |
| Anti-local effect attenuation | min. 15 dB |
| Dialing | PM / DTMF |
| Optical calling signal | LED |
| Casing protection degree | IP54 |
| Dimensions | 300x70x80 mm |
| Weight | ca. 0.6 kg |
| Operating temperature range | from -20 to +40° C |