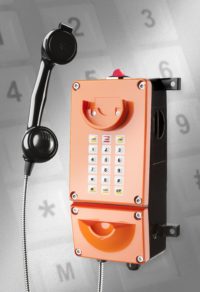 Application
TP non-intrinsically safe telephone sets have been designed for exploitation in hard industrial conditions with no explosion hazard, including mining plants, (extensive humidity, noise, dustiness).
Thanks to the casing resistant to different atmospheric conditions and to lound calling signal, TP telephones can be used in:
methane free mines
production plants
shipyards
garages
warehouses
construction sites
breweries
Cooperation
With the standard analogue equipment of telephone exchanges of any type.
Power supply
From subscribers' equipment of analogue telephone exchanges.
TP technical data
Polarity of the subscriber's line
any
Direct current resistance
max. 600 Ω
Input impedance
600 Ω
Local effect attenuation coefficient
min. 13 dB
Calling signal loudness level
min. 90 dB from 1 m distance
Dialling
PM / DTMF
Numbers memory
redialing up to 32 digits
direct access memory - 3 x 16 digits
indirect access memory - 10 x 16 digits
Optical calling signal
visible from long distance
Casing protection degree
IP65
Dimensions
340x195x110 mm (without the receiver)
340x195x180 mm (with receiver)
Weight
ca. 2 kg
Operating temperatures range
od -40 do +40 ° C